Tuesday, February 27, 2007
Playing with Darby-dog...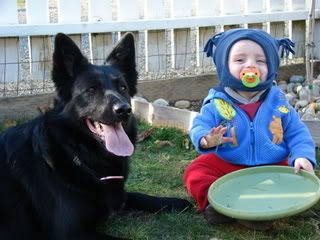 Eating some veggies and Cheerios...
Hangin' with Mom...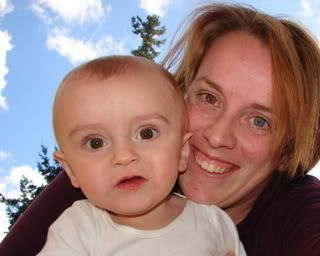 Being crazy in a Piggy Hat!...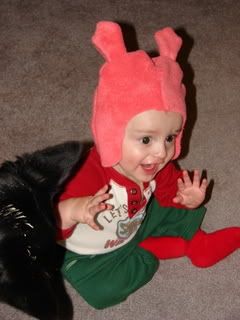 Posted by

Carrie
at 10:26 PM
No comments:

Saturday, February 17, 2007
Doing a little dance....



And doing a little Bouncin'....(sorry the picture is distorted on this one, but you should get the idea that he's a bit of a "Spaz"!)


Posted by

Carrie
at 11:03 PM
No comments:

Saturday, February 10, 2007
This week we had a Chicken Pox scare!
Finn had a fever last weekend for a few days, followed by a day of damp clamminess, and then a rash appeared from no where.
I phoned our consulting nurse, and read off Finn's symptoms. Everything I mentioned to her, qualified in her mind as Chicken Pox (or as we've been calling them, "Da Pox"). I continued to question her, and she continued to tell me, "Chicken Pox".
After much doubt, and about 24 hours into the rash, I started doing some serious online research. I came up with something that appears to be closer to what Finn has than Da Pox.
It's called "Roseola", and apparently it's very common in babies his age. So...
No Worries! The rash has disappeared, and there is no more fever, and all is well...at our house anyway(A big heartfelt hug goes out to Cam, Sara, Evan, and Parker, as they work their way through this awful flu!)
Posted by

Carrie
at 10:57 PM
1 comment: