Sorry this took a while, but I wanted to make sure I had some time to write a bit about our trip as well as show off some pictures. So thanks for hanging in there, since we got back from our fabulous trip to Maui in April, and it's taken me this long to finally find the chance to write a bit about it.
Finnegan handled the 6 hour flight a lot better than I thought he would. My initial concern may have helped however, since I packed an amazing amount of books and toys. Also, at the last minute, I went into the Starbucks at the airport and bought some chocolate milk, bagels, and fruit for the ride. Brandon even helped calm my nerves by downloading clips of Finn's favorite movies on his ZUNE(just in case). A huge thanks goes out to the wonderful woman who sat in front of Finn, for being so patient with the few times we weren't able to control some spastic kicking fun.
All three of us were thrilled when we landed in Honolulu and had enough time to play in the small outdoor area and chase the somewhat exotic looking birds before boarding the 1/2 hour flight to Maui.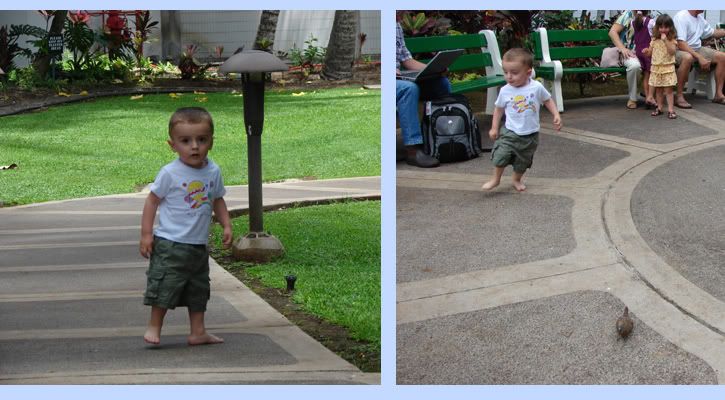 The rest of our trip was wonderful just in the fact that we didn't have anything we HAD to do. We spent the mornings on the beach (before it got too hot), afternoons napping, driving, and exploring all the different places on that one island.
Brandon and I realized the first morning that Finnegan would not be participating in any water sports. He was a fan of the beach and the sand...
But definitely NOT the water and waves...
Finn's up from nap... gotta run, but look for more from our trip soon!