Yes. I haven't blogged in a really long time. Not that I haven't wanted to... basically I've been avoiding confessing to all the happenings of the past month or so. SO... if you're ready, here's an update:
A few days before Christmas, I had a miscarriage. No more baby this time around, but we've come to terms with it and I think we're all ok. Not sure if we're going to try again right away, but I'll let you all know. Moving on...
Christmas! It was really great to be around ALL of our family for the holiday, even if it did mean spending some time in the car throughout the day. We spent Christmas Eve at my moms and Finn got to hang with his cousin Eddie and his cousin Eddie's new Karaoke Machine (which I think ended up being more exciting than hangin with Eddie)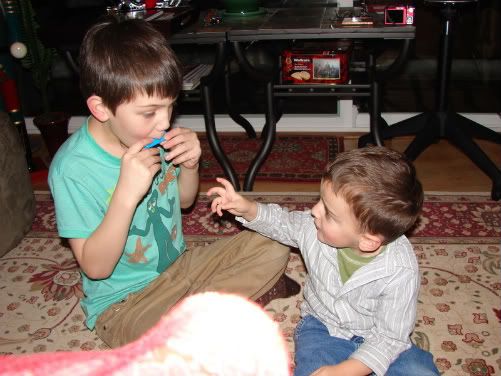 Christmas morning we spent with Brandon's cousin Cory, who was visiting from Illinois and unexpectedly got to stay with us for the holiday. Finn got to know him during his stay, but still refuses to call him anything but "Daddy's cousin Cory".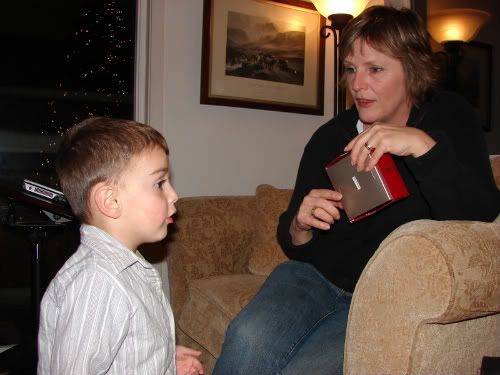 Then it was off to Olalla to the McFamily Christmas. All 5 cousins between 2 and 4 got a little crazy... but it seems that we're all gaining a bit more control each year as parents. Hopefully we'll have everything completely under control by the time they have kids of their own.
(Pictures of Handmade gifts as soon as I can find out if my inlaws took any)
Next to last stop: My Aunt's house in Seattle. Here we got to see my Dad and Grandma and experience my Aunt's wonderful cooking once again. We also got to see some "Some-what cousins" we haven't seen in a while.
Then home and bed. It was a good day. More info to follow soon.